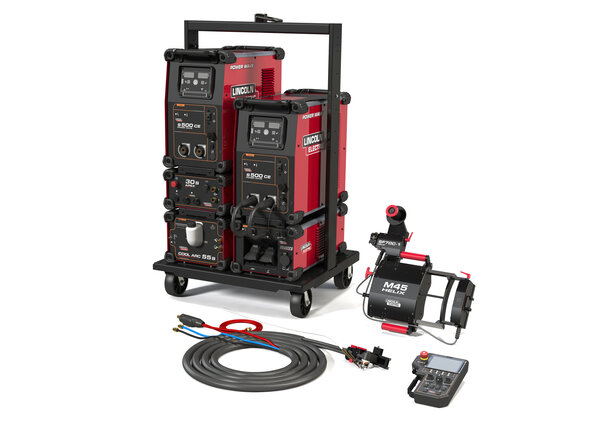 The APEX® 30S M45 Hot Wire TIG Ready Pak® CE system is a fully integrated and synchronized digital platform for controlling welding, torch motion and wire delivery. The addition of hot wire with Active Arc Suppression increases deposition while maintaining superior weld quality. With weld data delivered between the controller and pendant instantly, the operator has immediate access to monitor, adjust and control each parameter throughout the process. Simple menus for operation and intuitive controls allow the user to easily operate the system and produce consistent welds for a wide range of applications.  
Features
Synchronized System

Complete process control from a single user interface
Zero calibration required, closed loop motion with self diagnostics
Programs can be stored on the controller or a USB drive for effortless operator selection and set up
Utilizes on board data collection and logging or Checkpoint® Production Monitoring System
USB port for quick transfer of data and information from system-to-system or system-to-PC

Ergonomic

Pendant is lightweight and balanced for one-handed operation, with large buttons and controls for easy operation while wearing protective gloves.

Durability

Designed to withstand operator and environmental abuse.

Service and Maintenance

The controller is designed to be quickly serviced in a production environment.

Easy to Operate

Simple and logical navigation is easy for operators to learn.
Illuminated full color display with clear type for trouble-free reading.
Service Information
What's Included
K3168-1 - POWER WAVE® S500 CE ADVANCED PROCESS WELDER
K3685-1 - POWER WAVE® ADVANCED MODULE
K52217-1 - APEX® 30S MECHANIZED CONTROLLER
K52226-1 - AL BRIDGE KIT
K52224-1 - HELIX M45
K52248-1 - HELIX SF70C-1 ONBOARD WIRE FEEDER
K52216-1 - APEX® 3 SERIES TIG PENDANT
K52262-25C - PTW-18MLP-500 MECHANIZED TWIST-MATE W/ CNTL CBL
K52254-1 - WIRE MANIPULATOR 1
K14050-1 - COOL ARC 50
K52236-1 - APEX LIFT CART
K52130-25 - PENDANT CABLE
K1543-8 - ARCLINK®/LINC-NET® CONTROL CABLE - 8 FT (2.4 M)
K52228-1 - HOT WIRE TIG SENSE LEAD ADAPTER
M23131-28 - HOT WIRE WELD CABLE 28FT
S32536 - BRASS THIN HEX NUT 7/16-20
S31281 - USB FLASH DRIVE 8GB
M23330 - CRATE APEX SYSTEMS
Machine Inputs & Outputs
| | |
| --- | --- |
| Phase 3: Input Voltage #1 (Voltage/Phase/Hertz) | 208/230/380/415/460/575/3/50/60 |
| Phase 3: Rated Output #1A (Current/Voltage/Duty Cycle) | 550A/41.5/40% |
| Phase 3: Rated Output #1B (Current/Voltage/Duty Cycle) | 450A/36.5V/100% |
| Phase 3: Input Current at Max Rated Ouput #1 (Current) | 3PH/40% - 80/73/41/37/29A |
| Phase 3: Input Current at MAX Rated Output #2 (Current) | 3PH/100% - 60/54/30/27/21A |
Product Weights & Dimensions
| | |
| --- | --- |
| Dimensions (H x W x D) | 56 in x 32 in x 28 in (1410 mm x 813 mm x 711 mm) |
| Net Weight | 1025 lbs (466 kg) |
Machines
| | |
| --- | --- |
| Machines Processes | TIG (GTAW) |
| Output Range by Mode | 5-550A DC |
| Number of Operators per Machine | 1 |
| Data Technologies | Ethernet |
| Machines Communication Technology | ArcLink |
| Amphenol Pins (type of connector) | 5 |
| Work Lead Connector Type | Dinse |
Wire and TIG Feeders
| | |
| --- | --- |
| Number of driven rolls | 2 rolls |
| Feeder type | Automatic |
| Configuration | Single |
| Max spool diameter | 200mm |
| Communication Technology | ArcLink |
| UI type | TFT - Graphic |
| Max Rated Output Capable | 500A |
| Max Wire Diameter (Solid) | 1/16 in (1.6 mm) |
| Max Wire Diameter (Cored) | 1/16 in (1.6 mm) |
| Max WFS | 800IPM |
| Motor Size | 80W |
| Feedhead Configuration | Single |
| Wire Configuration | Single |
| Contact Tips Included | Yes |
Stick Welders
| | |
| --- | --- |
| Welding Gun Cable Assembly Length | 25 ft. (7.6m) |
Basic Specification
| | |
| --- | --- |
| Input Voltage | 24VAC |
| Input Hertz | 50/60 |
| Input Power | 208/230/380/415/460/575/3/50/60 |
| Mode Icon | CC/CV |
| Polarity | DC |
Application
Typical Application
Elevated Temperature Piping
Gasification Plants
Heat Exchangers
High Pressure Piping
High Temperature
High-strength Pipe
LPG & LNG Storage Vessels
Marine Fabrication & Repair
NACE Applications
Offshore
Oil & Gas
Petrochemical
Petrochemical Industry
Petroleum Processing
Pipeline & Offshore
Piping
Power Generation
Power Plants
Pressure Vessels
Process Piping
Shipbuilding
Warranty
| | |
| --- | --- |
| Warranty | Power Supply - 3 Years; Controller, Pendant, Weld Head - 1 Year; Cables, Acessories - 30 Days |