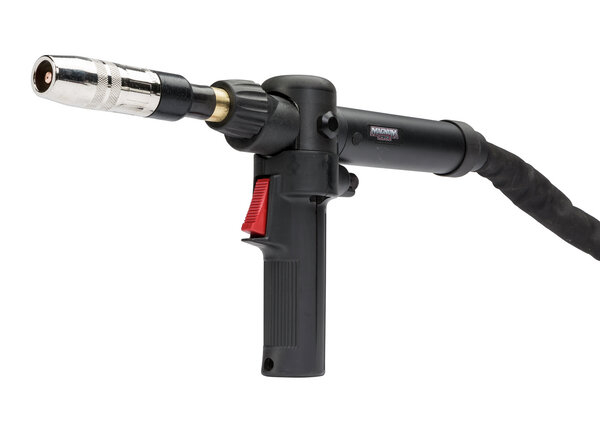 ALUMINUM PISTOL GRIP PUSH-PULL GUN
The new Magnum PRO AL Pistol Grip models are designed to optimize a push-pull welding operation for aluminum by integrating features that will reduce downtime.
Features
Superior push-pull wire feeding technology Reduces friction in the wire feed path, resulting in smooth feeding and minimizing damage to the wire.
Quick-Change Liner Simply remove the liner nut to easily access the liner.
Magnum PRO expendables Utilizes common expendables with all Magnum PRO MIG Guns. 550A expendables are standard with the Magnum PRO AL.
Lightweight, ergonomic handle Intended for heavy duty work but light in weight with a well-balanced pistol grip to fit in either hand.
Recessed adjustment dial Conveniently located at the rear of the handle to prevent a change while welding.
Removable drive roll cover Easy access to wire and drive rolls.