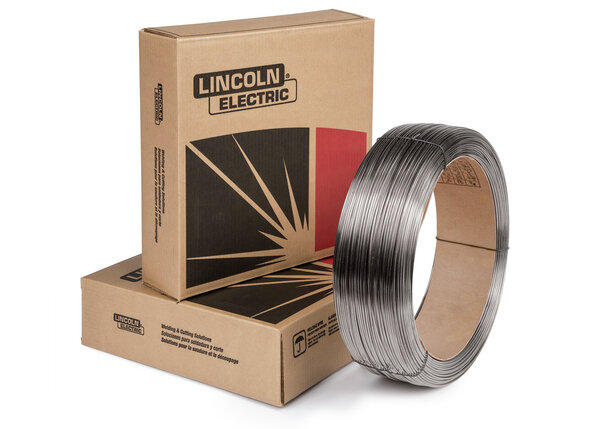 Diameters / Packaging
| Diameters | 15 LB SPOOL / 60 LB CARTON | 33 LB SPOOL | 60 LB COIL | 600 LB DRUM |
| --- | --- | --- | --- | --- |
| 0.045 IN | ED029418 | ED029201 | ED029202 | |
| 0.052 IN | ED029419 | ED029204 | ED029205 | |
| 1/16 IN | | ED029206 | ED029207 | ED029387 |
Smooth arc transfer, low spatter and good bead appearance make this a top quality electrode. Operators will enjoy the well directed arc with small ball transfer.
Features
Smooth arc transfer and low spatter
Designed for welding with either 100% CO2 or 75-82% Argon/balance CO2 shielding gases
Good bead appearance
Fast freezing slag for out-of-position welding
Meets AWS D1.8 seismic lot waiver requirements
Notes: AWS D1.8 structural steel seismic supplement test data can be found at the Lincoln Electric Certificate Center.
BEFORE USE, READ AND UNDERSTAND THE SAFETY DATA SHEET (SDS) FOR THIS PRODUCT AND SPECIFIC INFORMATION PRINTED ON THE PRODUCT CONTAINER. SDS Search page
See test result disclaimer
| CONFORMANCES | SPECIFICATION | CLASSIFICATION |
| --- | --- | --- |
| AWS | AWS A5.20 | E71T-1C-H8, E71T-1M-H8, E71T-9C-H8, E71T-9M-H8 |
| AWS | AWS A5.36 | E71T1-C1A2-CS1-H8, E71T1-M21A2-CS1-H8 |
| ABS | ABS - Part 2 | 3YSA H10 |
| CWB | CSA W48 | E491T1-C1A3-CS1-H8 (E491T-9-H8), E491T1-GA3-CS1-H8 (E491T-9M-H8), E491T1-M20A3-CS1-H8 (E491T-9M-H8), E491T1-M21A3-CS1-H8 (E491T-9M-H8) |
| DNV-GL | DNV - 2.9 | III YMS H10 |
| LR | LR - Chapter 11 | 3YS H10 |
Classification
Shielding Gas
Polarity
Yield Strength @ 0.2% Offset
MPa (ksi)
Tensile Strength
MPa (ksi)
Elongation
%
Charpy V-Notch
J (ft-lbs) @ -30°C (-20°F)
E71T-9C-H8 Requirement
100% CO2
DC+
400 (58) min.
480-660 (70-95)
22 min.
27 (20) min.
E71T-9M-H8 Requirement
75-80% Ar, balance CO2
DC+
400 (58) min.
480-660 (70-95)
22 min.
27 (20) min.
E71T1-C1A2-CS1-H8 Requirement
100% CO2
DC+
400 (58) min.
480-660 (70-95)
22 min.
27 (20) min.
E71T1-M21A2-CS1-H8 Requirement
M21-ArC
DC+
400 (58) min.
480-660 (70-95)
22 min.
27 (20) min.
Typical Result, As-welded
100% CO2
DC+
560 (81)
610 (89)
30
38-46 (28-34)
Typical Result, As-welded
75% Ar, 25% CO2
DC+
590 (86)
650 (95)
25
89-95 (66-70)
Classification
Shielding Gas
Polarity
%B
%C
%Mn
%P
%S
%Si
Diffusible Hydrogen
mL/100g Weld Metal
E71T-9C-H8 Requirement
100% CO2
DC+
0.12 max.
1.75 max.
0.03 max.
0.03 max.
0.90 max.
8.0 max.
E71T-9M-H8 Requirement
75-80% Ar, balance CO2
DC+
0.12 max.
1.75 max.
0.03 max.
0.03 max.
0.90 max.
8.0 max.
E71T1-C1A2-CS1-H8 Requirement
100% CO2
DC+
0.12 max.
1.75 max.
0.030 max.
0.030 max.
0.90 max.
8 max.
E71T1-M21A2-CS1-H8 Requirement
M21-ArC
DC+
0.12 max.
1.75 max.
0.030 max.
0.030 max.
0.90 max.
8 max.
Typical Result
100% CO2
DC+
0.0050
0.06
1.21
0.01
0.011
0.41
4.2
Typical Result
75% Ar, 25% CO2
DC+
0.0060
0.06
1.45
0.01
0.01
0.59
5.7
TYPICAL OPERATING PROCEDURES
Diameter
Shielding Gas
Polarity
CTWD
mm (in.)
Wire Feed Speed
m/min (in/min)
Voltage
volts
Approx. Current
amps
Melt-off Rate
kg/hr (lb/hr)
Deposition Rate
kg/hr (lb/hr)
Efficiency
%
0.045 in (1.1 mm)
75% Ar / 25% CO2
DC+
19 (3/4)
4.5 (175)
21-24
130
1.7 (3.8)
1.5 (3.3)
87
0.045 in (1.1 mm)
75% Ar / 25% CO2
DC+
19 (3/4)
6.4 (250)
23-26
155
2.4 (5.4)
2.1 (4.7)
87
0.045 in (1.1 mm)
75% Ar / 25% CO2
DC+
19 (3/4)
7.6 (300)
24-27
180
2.9 (6.4)
2.5 (5.6)
87
0.045 in (1.1 mm)
75% Ar / 25% CO2
DC+
19 (3/4)
8.9 (350)
25-28
205
3.4 (7.6)
3.0 (6.6)
87
0.045 in (1.1 mm)
75% Ar / 25% CO2
DC+
19 (3/4)
10.2 (400)
26-29
230
4.0 (8.7)
3.5 (7.6)
87
0.045 in (1.1 mm)
75% Ar / 25% CO2
DC+
19 (3/4)
12.8 (500)
27-30
260
5.0 (10.9)
4.3 (9.5)
87
0.045 in (1.1 mm)
75% Ar / 25% CO2
DC+
19 (3/4)
15.3 (600)
28-31
290
6.0 (13.1)
5.2 (11.4)
87
0.052 in (1.3 mm)
75% Ar / 25% CO2
DC+
19 (3/4)
3.8 (150)
21-24
150
2.1 (4.6)
1.8 (3.9)
86
0.052 in (1.3 mm)
75% Ar / 25% CO2
DC+
19 (3/4)
5.1 (200)
22-25
180
2.8 (6.1)
2.4 (5.2)
86
0.052 in (1.3 mm)
75% Ar / 25% CO2
DC+
19 (3/4)
6.4 (250)
23-26
210
3.4 (7.6)
3.0 (6.5)
86
0.052 in (1.3 mm)
75% Ar / 25% CO2
DC+
19 (3/4)
7.6 (300)
24-27
240
4.8 (10.6)
4.1 (7.8)
86
0.052 in (1.3 mm)
75% Ar / 25% CO2
DC+
19 (3/4)
10.2 (400)
26-28
315
6.2 (13.7)
5.4 (10.5)
86
0.052 in (1.3 mm)
75% Ar / 25% CO2
DC+
19 (3/4)
12.8 (500)
28-31
335
6.9 (15.2)
6.0 (13.1)
86
1/16 in (1.6 mm)
75% Ar / 25% CO2
DC+
19 (3/4)
3.2 (125)
21-24
190
2.4 (5.2)
2.0 (4.4)
85
1/16 in (1.6 mm)
75% Ar / 25% CO2
DC+
19 (3/4)
3.8 (150)
22-25
205
2.8 (6.2)
2.4 (5.3)
85
1/16 in (1.6 mm)
75% Ar / 25% CO2
DC+
19 (3/4)
5.1 (200)
22-26
240
3.8 (8.3)
3.2 (7.0)
85
1/16 in (1.6 mm)
75% Ar / 25% CO2
DC+
19 (3/4)
6.4 (250)
23-27
290
4.7 (10.3)
4.0 (8.8)
85
1/16 in (1.6 mm)
75% Ar / 25% CO2
DC+
19 (3/4)
7.6 (300)
24-28
325
5.6 (12.4)
4.8 (10.5)
85
1/16 in (1.6 mm)
75% Ar / 25% CO2
DC+
19 (3/4)
10.2 (400)
27-31
400
7.5 (16.5)
6.4 (14.0)
85